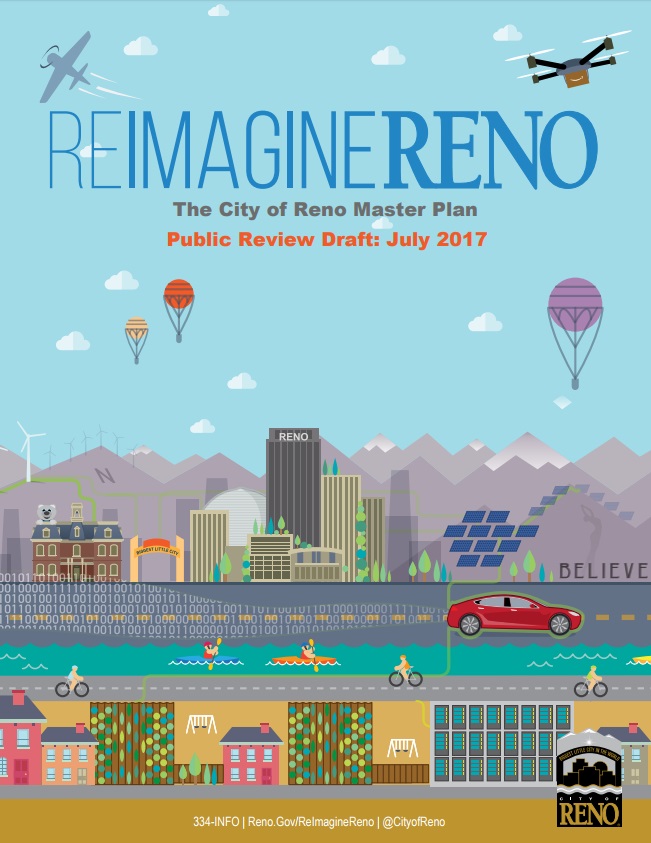 Today is a big day for ReImagine Reno as we release the first draft of the updated City of Reno Master Plan! We are excited to present this draft to you as it represents an important milestone in the master plan update process. It signifies a major step toward adopting a new, comprehensive plan that outlines a path to achieving the community's vision for our city's future as Reno continues to grow and evolve over the next 20-30 years.
When we kicked off the ReImagine Reno process in 2015, we asked the community about its vision for the future of Reno. This feedback, along with values and priorities identified during the public outreach process, developed into the master plan guiding principles, policies, and implementation steps you see in this draft. Some of the content may look familiar to you, while other portions are new and being released for the first time today.
Chapters two and three include the policies at the heart of the Master Plan. Both the Citywide Policy Framework and the Area-Specific Policies have been updated to reflect community feedback received to date during community events and online surveys earlier this year.
Chapters four and five are new and will be the focus of our community open houses at the end of July. Here's a brief overview of these two sections:
Chapter 4 – Growth and Reinvestment Framework: This section supports the citywide and area-specific policies. It will be used to guide decisions about how and where the city grows and the infrastructure and services necessary to support new growth over the next 20-30 years.
Chapter 5 – Implementation Plan: This section outlines a series of strategies to implement the guiding principles, goals,and policies of the updated Master Plan and establishes a clear commitment to making progress toward the community's vision. Roles and responsibilities, resources, and a suggested timeline for completion are provided for each implementation strategy. Additionally, the Implementation Plan includes a shortlist of six key priorities to focus implementation efforts over the next one to two years.
In its entirety, the Master Plan will help guide both day-to-day decision making, short-term actions, and longer-term initiatives and strategies to achieve the community's vision. While there is still plenty of work to be done before final adoption, we hope you enjoy seeing how the plan is taking shape and will get involved in the final stretch of the master plan update process.