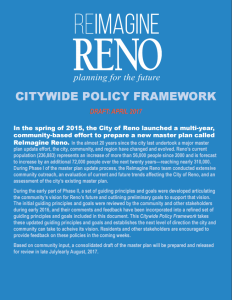 Housing options. Growth. Downtown revitalization. Arts and culture. Walkable communities. Historic preservation. Sustainability. How are we addressing these topics, and others, to fulfill the community vision for Reno?
The ReImagine Reno team is excited to release the next portion of the updated master plan for public review. Organized around eight guiding principles that were reviewed by the public in April 2016, the draft citywide policies provide the next level of more detailed direction to achieve the community's vision.
For example, we heard from you that more walkable neighborhoods are desired, and the policies address them in numerous ways. One draft policy proposes to "support the development of walkable community/neighborhood centers that provide a variety of services and amenities to the immediate area (policy 4.4a)." In another example, sustainable development practices take center stage based on your input, proposing to "promote and incentivize green building and sustainable neighborhood development that reflects best practice and industry standards for new development, major renovation, and revitalization projects at all scales (policy 2.5a)."
These policies, coupled with the implementation plan that will be released in the summer, will assist strategic decision making and budgeting for the City of Reno, in addition to the review of development proposals.
How can you give feedback on this latest component of the draft plan?
Join the ReImagine Reno team on April 25-26 at the McKinley Arts & Culture Center for an open house or a topic-specific meeting. At each event, you will have the opportunity to learn more and provide input on the draft citywide policies. Check out the schedule and RSVP to an event! If you are not able to attend an event, an online survey will also be made available at the end of April, so stay tuned for that opportunity!